Currently Open

Ronnie Wood
18 years old

Hybrid-Half witch half werewolf

Female

Bisexual
Description– Ronnie is 5'4" of beauty that was passed down by her mother. Her long wavy beach blonde hair cascades down to the middle of her back. Her bright blue eyes are like two little beautiful oceans. She is well built with beautiful curves that a super model would be jealous of. Her skin is tan and flawless except for the tattoo of a crescent moon on her left shoulder. Her face is one of an angel with her perfect skin, plump pink lips, beautiful blue eyes, and long dark eyelashes. Ronnie has been known as gorgeous and breathe taking since she matured. When she was young she was the cutest little girl you ever did see. It seems only right she grew up with that beauty.
Being half werewolf she also has a wolf form. Her multicolored fur is soft to the touch. It even looks soft. Her fur is a mixture of white, light brown, dark gray, light gray and even some black on the tips of her ears. Her nose is coal black and small. Her exterior looks soft and friendly her bite is worse then her bark. Her teeth are razor sharp and could tear through flesh in bone with one hard bite.
Personality- Ronnie is energetic and fun. She loves to cut loose and have a great time. She is an amazing escape artist. If there's a party she'll find it just to have a good time. Being on her own didn't toughen her up it made her realize that she needed to live her life the way she wanted not how everyone wanted her to be. So that is exactly what she did. She grew up and didn't settle down. She hops from guy to guy without even a second thought. She's been known as a player, but with her looks no title could stop her from getting the guy she wanted. She didn't want a relationship or to settle down. She wanted to be free and have fun. She was all for a one night stand and she didn't call the next day or gets a broken heart when you don't call. She will sleep with any guy or girl for that matter and doesn't care that she leaves behind broken hearts. Some would call this cruelty but in her eyes she just doesn't want to grow up and become responsible. She loves sex, music, drugs, and a hell of a good time.
Back Story –Growing up the baby of a large family had its ups and downs. Growing up she got to do what she wanted when she wanted until she reached about 9 then her mother passed away and her eldest brother Lance became in charge and decided it was time she grew up. That was the last thing she wanted but she loved her big brother so she did as he said. She has 4 older brothers and 2 sisters. She is the youngest of 7.  For three years she went to piano lessons and learned to play classical music, which of course is her least favorite. Then she was forced to take ballet lessons for only two years because she got kicked out when she ripped a bar off the wall and chucked it across the room. Lance was not happy about that. So when she quit ballet he made her take up sewing. Ronnie reached the age of 15 she started to rebel against him. She refused to do anymore of those stupid classes and she threatened to run away. That was the night he hit her. She had never been so scared in her life. She'd stared at him and her hand went to her face that stung. Shock had filled his eyes, "No! Ronnie!" he had called after her as she ran from the house slamming the door behind her.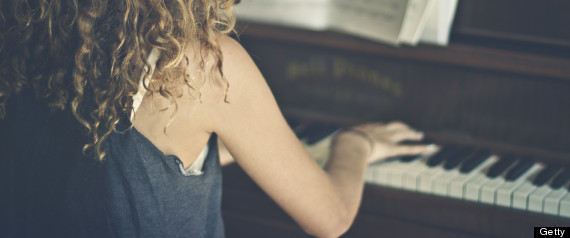 Since that night she has been on her own and hasn't looked back since. That was three years ago. All in one year her family had been wiped out by slayers. Or so she thought... She had overcome with grief for almost a year then she put it behind her and decided to move on with her life and live it to her fullest. For the past year she has gone from city to city and slept with over a hundred guys and girls. Its almost like she's searching for something that she has yet to find.
+Example Post
The slender female walked along the streets her hands shoved into her jackets pockets. The cool breeze blew her golden hair  from her face as she walked. Her bright blue eyes shined as her smile light up when some handsome human smiled at her. She winked at him and walked towards him sitting next to him on the bench. "Hi there." she said leaning back. Her blue shirt moved as she did and showed an inch of her tanned stomach. Though the shirt and shorts she was wearing already revealed enough she thought she'd tease him some more. The man smiled at her. "How are you kitten?" her eyes sparkled at the nickname. "I'm great now cutie. Now whats a handsome man like you doing all alone on a great day like this?" The man turned as her finger ran over his chin. Her grinned, "If I said waiting for you would you believe me?" She raised an eyebrow and leaned in and kissed his cheek softly. "Then I guess its your lucky day." She smiled and winked at him.
Last edited by Ronnie Wood on July 1st 2014, 8:04 pm; edited 5 times in total



Posts

: 103


Join date

: 2013-08-14

Character Info
Characters Owned:


Looks good to me ^_^
Admin




Posts

: 275


Join date

: 2013-07-23


Age

: 21


Location

: Under your bed (;

Character Info
Characters Owned:


Yay! Hehe doctor who i love him <3



Posts

: 103


Join date

: 2013-08-14

Character Info
Characters Owned:


---
Permissions in this forum:
You
cannot
reply to topics in this forum