Currently Open

₪ Name
: Cheshire Gatto
₪Age:
Cheshire forgot his real age, but He looks pretty young to Humans..
₪Gender:
Positively Male!
₪Race:
Vampire!
₪Sexuality:
Ches doesn't really care about the Sex of the person...So..Bisexual...?
₪Character Description
: Cheshire isn't the type of male that had been blessed with muscles to show off, but I suppose you could say He makes all that up for being Adorable and somewhat, tall.  Everywhere He goes, people treat Ches as if he's some sickly creature, a frail China doll,,  partially because of how pale and weak he looks. He doesn't really mind. He's fine with it because, it's been happening ever since Cheshire was a little boy, living in Venice.  Cheshire has inky black hair, that has been swiped around his head, and his bangs now cover his forehead and eyes.
Ches, has frail features, yes, but somehow, People are drawn to him..
₪Character Personality:
Cheshire...isn't the sweetest creature you'll ever meet...He's creepy...Always was he the boy made fun of, and ran from. His first name, was a strange one, yes, yet what got him really made fun of, what his last name. Gatto, well Gatto meant Cat, in Italian..Cheshire..Cat? Yeah, He wasn't ever expecting a friend with that sort of name. Especially when some Old Lady down a few streets from his house had spread rumors about his parents, claiming them to be "The Devil's Children". Sure, Cheshire knew his parents were a bit freaky, with their pale features,  shadowy colored eyes, and how every night they went out with their 'Friends'..hanging out under bridges and alleys...Yet Ches didn't understand how that had ANYTHING to do with him. He wasn't like them..at all. Anyway, back to the point, Cheshire has been labeled "Insane" or "Unstable". From all that..bullying, Ches finally made up his mind,
that Friends, a Lover...Or Lovers..Who needed them? I'm perfectly perfect by myself!
He'd tell himself. He made up his mind, that He would NEVER give someone the power to hurt him, ever, again.
₪Back Story:
Cheshire was born into the Darkest family...one that held so many secrets..it drove Ches mad. His Mother, Neferet, gave birth to two boys..Twins. Instantly, she wanted to name the two babies something...strange, creepy..like her.So he came up with Cheshire and Jinx. Ches and Jinx were Neferet's whole heart..she loved them. Their father, Aro,on the other hand, wasn't so fond of the two boys. He had always preferred girls over boys. So, you can see, He gave the Twins a bad time growing up, throwing wine/beet bottles at them..beating them..cursing and whispering cruel things into their ears..Aro wasn't going to love creatures He didn't want. Cheshire had Jinx and his Mother, so his Father's abuse never really affected him.  Jinx, on the other hand, kept trying to do things he believed his father would like, and respect him for. But Jinx...Aro..their Father, found this as a challenge..the next morning...Cheshire woke up to an empty bed he'd originally share with his Twin, and to his Mother's sobbing. Crawling out of bed, Ches found Jinx, limp  and pale in his Mothers arm, a smile slashed across his thin throat.
And that's when Cheshire began to...change...become distant, and lonely..insane..
A few months later, a Woman with long golden hair, and beauty hard to compare to, offered a way out..for Cheshire...an escape from his Father's endless abuse, and his Mother's grief. Of course, Ches took the offer, without even a second thought....
And then he became a Vampire. Cheshire felt tricked...the loneliness never left Ches..he was always alone....
₪Photo(s):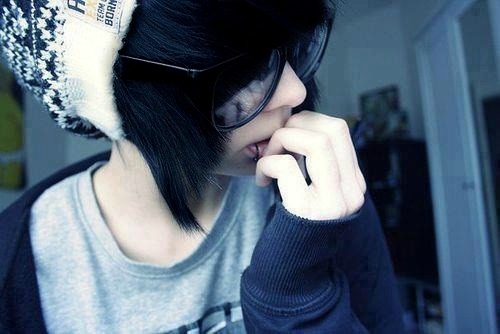 ₪Example Post:
Cheshire rocked the Three year old in his arms, watching as the Baby raised her arms, touching his chest softly...
She was so tiny...frail.
.The babies clothes were stained crimson, it's thin curly hair messy, matted with blood..Her parent's blood. "Hush lil' baby..don't you cry.." Ches cooed, blinking through his hair. It had been hard to see with all his hair..covering his eyes, but after years, Ches finally mastered it..The baby let out another cry, wriggling in his arms."Hey..it's okay..My parent's are dead too! You and me...we're just alike..." Cheshire grinned, causing the baby to scream. "Stop! Crying! Please.." Walking down the dark street, Ches looked around, half expecting to see a Guard running towards him, shouting out for Cheshire to put the baby down.
No one came. It was about..two o' clock in the morning, and everything was absolutely quiet...The baby ceased it's screaming, though She still softly cried. How pathetic...Cheshire had thought about killing the Child..but then He realized...he could never do that! He may be a twisted boy, but Cheshire couldn't bring himself to harm something..that didn't deserve it..I suppose you could say, Ches thought the girl as He thought of Jinx..His best friend...
This baby deserved a chance..but GAH! It's crying is annoying!
Making a sharp turn, Cheshire placed the wrapped-in-his-jacket baby in a box, and wrote this on the Child's box..
The name's Jinx! Please take care of me!
And with that, he placed the box on a doorstep and knocked, hiding and watching in the shadows as a girl in her late teens opened the door, gasped, and picked up the crying baby, bringing her inside. "Goodnight...Jinx..." Cheshire whispered sadly, moving out of the shadows to begin down the streets once more.



Posts

: 7


Join date

: 2013-10-09



Admin




Posts

: 515


Join date

: 2013-07-09


Age

: 21


Location

: Hellward Bound

Character Info
Characters Owned: Dante, Faolan, Silas, Kazuma


Hey I am not trying to be mean, only want to help. If one doesnt care about a gender they can also considered Pansexual

Guest

Guest





---
Permissions in this forum:
You
cannot
reply to topics in this forum